Sports Medicine & Rehabilitation Facility
This year marks the opening of an incredible equestrian facility for the delivery of full-service equine veterinary services and equine sports medicine resources that are the best of the best, Foxhall Rehabilitation Center in Fallston, Maryland. Over the years, Dr. Smith has given much thought to planning the type of facility and services that would best serve the equestrian athlete, beginning with his own professional career development.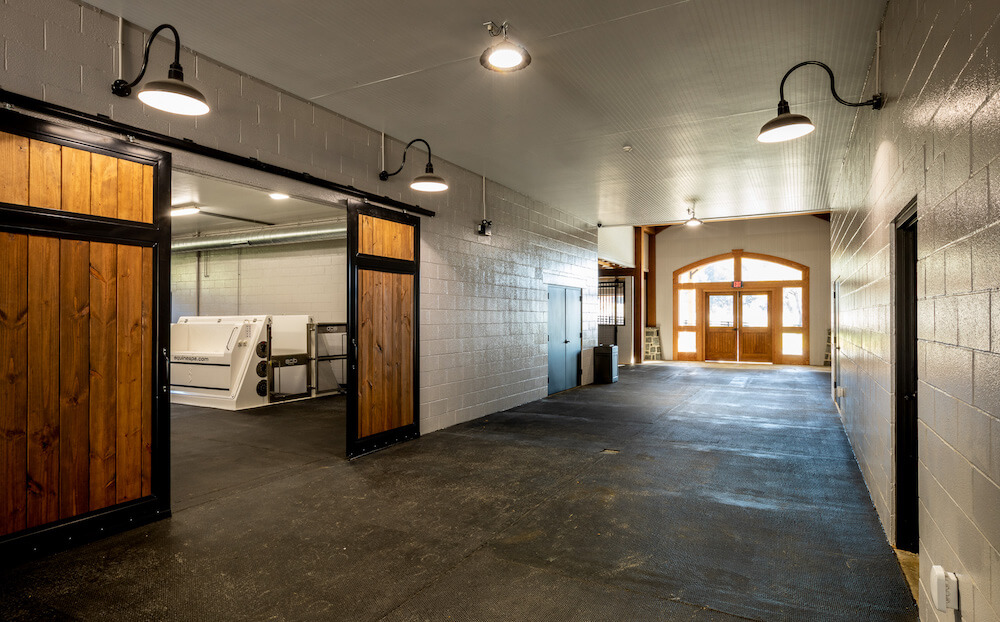 Aquapacer Plus- Foxhall's underwater treadmill, used for unloading tendons and ligaments after injury as well as providing resistance training
Cold Saltwater Spa - a drug free therapy that is successfully used for injury prevention, increasing mobility and reducing swelling in limbs prior to and post-training for competitive events
Salt Room Therapy - helps to improve your horse's overall health and improve the efficiency of your horse's respiratory system, leading to an improved cardiovascular performance.
Class IV Regenerative Laser Therapy - successfully treating injuries through laser stimulation of circulation and oxygenation, leading to faster and stronger healing
Ambulatory Services - using the natural properties of water, we offer an unlimited number of therapy options in rehabilitation, training and conditioning.
Inpatient Veterinary Services - with both veterinary medicine and rehabilitation services available, Foxhall is equipped to handle all of your veterinary needs from the routine to the not-so-routine.
Solarium Room - there are a number of effective uses for an equine solarium and horse owners are discovering that this therapy can be used successfully for a number of purposes.
Bemer Blanket - an innovative technology using a patented signal into the horse for a wide range of therapies.
Game Ready® Equine - this is a great tool used by veterinarians and riders to prevent injury and speed recovery from a variety of injuries in equine athletes.
Kraft Horsewalker - an excellent tool that can be used for a variety of training purposes, enhancing the health and vitality of your horse.